February 1, 2014
Hsinchu, Taiwan – February 1, 2014 – Lionic Corporation today announced that its research laboratory, AegisLab, collaborate with VirusTotal (http://www.virustotal.com/), Google subsidiary company, a well-known website that provides checking of viruses or malicious URL online. It uses up to 52 different antivirus scan engines to check for viruses that the user's own antivirus solution may have missed, or to verify against any false positives.
This collaboration let AegisLab Antivirus engine and URL scanner integrated into VirusTotal scanning services. Furthermore, VirusTotal provides malwares to lots of scanning engines providers for research purpose. This enhances AegisLab in fighting cybercrimes and provides feedback to VirusTotal in the near future.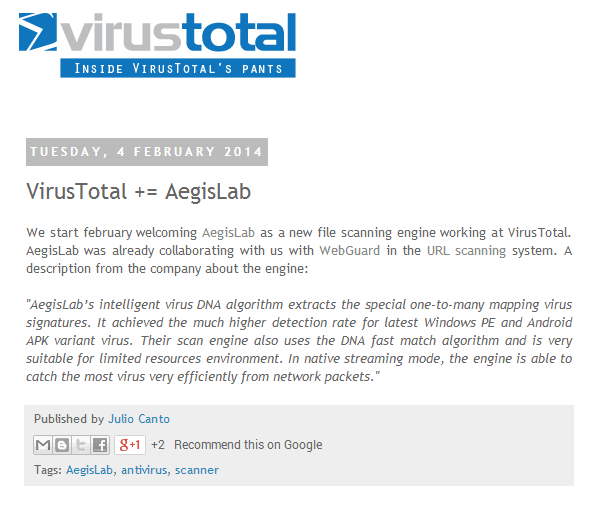 About Lionic Corporation
Lionic Corporation is a worldwide provider of innovative Deep Packet Inspection solutions. The technologies of Lionic include the complete DPI-based software engine and related management software which offer the Security Solutions that addresses anti-virus, anti-intrusion, anti-webthreat; and the Content Management Solutions that addresses application identification, device identification, application based QoS, web content filtering, parental control.
Lionic's security and content management solutions, cloud-based scan services and signature subscription service are widely deployed in the world already. They help service providers, network appliance manufacturers, semiconductor companies, etc. to enable the next generation of business routers, residential gateways, SD WAN edges and cloud gateways, advanced firewalls, UTMs, Smart NICs and mobile devices. Those products powered by Lionic provide better network management and protect the world's networks from an ever increasing level of security threats.